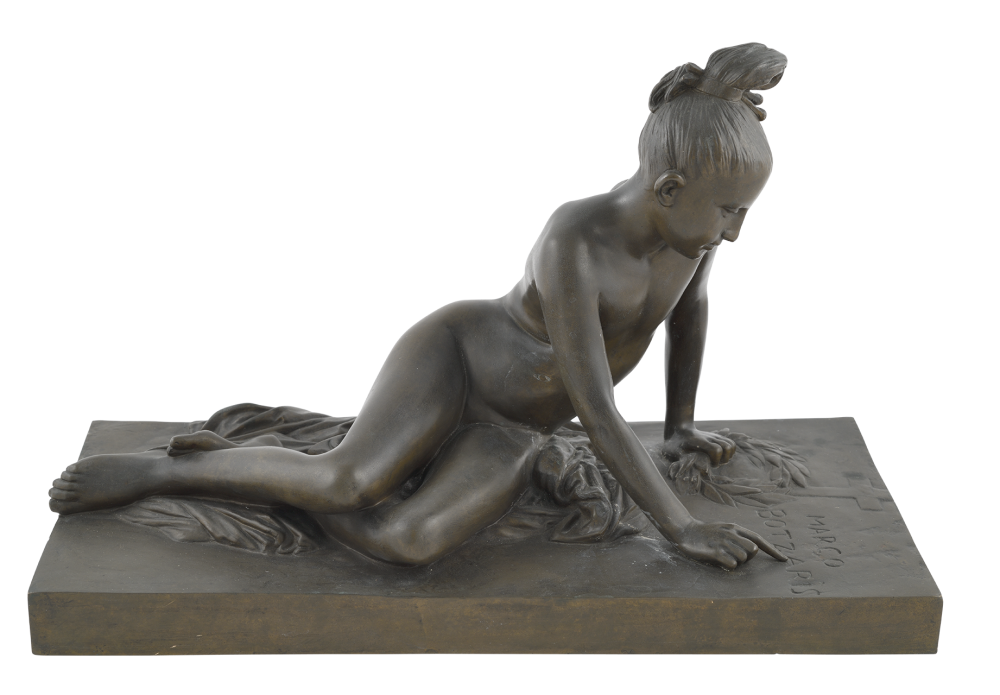 Pierre-Jean David d' Angers (1788 – 1856)
Young Girl on the tomb of Markos Botsaris, 1834
Bronze, H. 36 cm, L. 34 cm, W. 16 cm
© The Thanassis and Marina Martinos Collection
THEME
This bronze sculpture represents a young girl, sitting naked on top of Markos Botsaris' tomb.
With her right hand, we see her pointing to the inscription of the Hero's name
THE ARTIST
She symbolically represents Greece as a young girl, as the country had gained its independence only a few years before the sculpture's creation.
The sculptor depicts a young country, recognizing the brave contributions of its Heroes.
OBSERVE
→ In the work of art, the young girl has her right hand outstretched and, with her finger, she is touching the inscription with the name MARCO BOTZARIS.
DO YOU KNOW
→ How visually impaired people can read and write?
→ Do they perhaps use their hand to read?
DO YOU KNOW
The Braille System for the blind?
The Braille System is named after Louis Braille, a brave man who lost his vision at a very young age. When he was just 15 years old, this young Hero presented his complete System of Writing and Reading for the Blind, which is still used by millions of visually impaired people for reading and writing today!
CONNECTION TO EVERYDAY HEROES
The child symbolizes hope.
Ask an older person to explain why he or she thinks that you, as a child, symbolize hope.
What do you think?