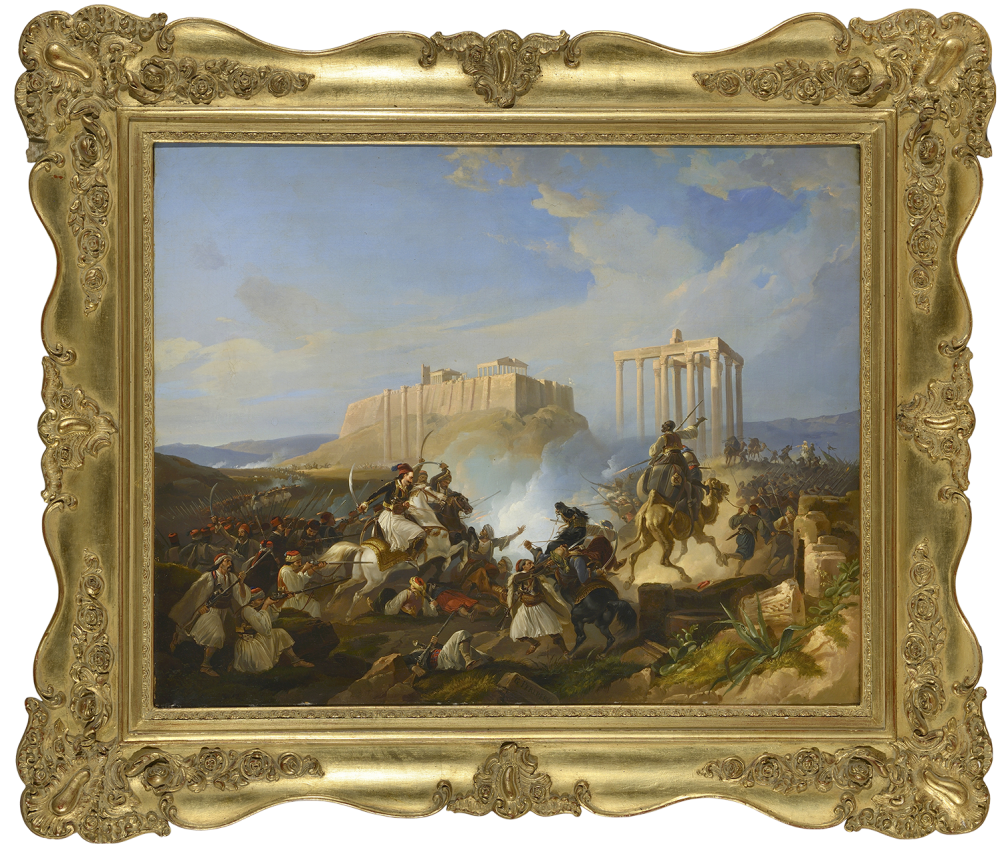 Johann-Georg-Christian Perlberg (1806 – 1884)
Georgios Karaiskakis in the Battle of the Acropolis, ca 1835
Oil on canvas, 50 cm x 71 cm
© The Thanassis and Marina Martinos Collection
THEME
Georgios Karaiskakis was the most charismatic military commander of the Greeks during the Greek Revolution.
In the painting, we see the Hero fighting to break the siege of the Acropolis by the Turks.
Thanks to the courage of Karaiskakis, Greek morale was revived and Greeks managed to hold their defenses on the sacred rock.
THE ARTIST
In the work of art, the painter depicts the fearless Hero fighting, capturing his strength and courage.
As a strong leader, Karaiskakis gives courage and inspires his comrades!
SEARCH:
→ For information and images of other heroic deeds by G. Karaiskakis.
(search the Internet, and in your books)
→ Try to find out what the position of the warrior's horse symbolizes in Art History. What does it mean when the horse is standing on its hind legs?
THINK
→ What makes him a hero?
→ What separates him from other heroes?
DID YOU KNOW THAT:
Olympiacos' Karaiskakis Stadium was named after Karaiskakis, because the stadium was built where the Battle of Phaleron took place, where the Hero was mortally wounded.
CONNECTION TO EVERYDAY HEROES
OBSERVE
In the work of art, the artist has painted the hero riding on his white horse, with his sword on his left hand.
•••
Where do you picture your own Everyday Hero sitting, and what are they holding? Are they alone or with others?