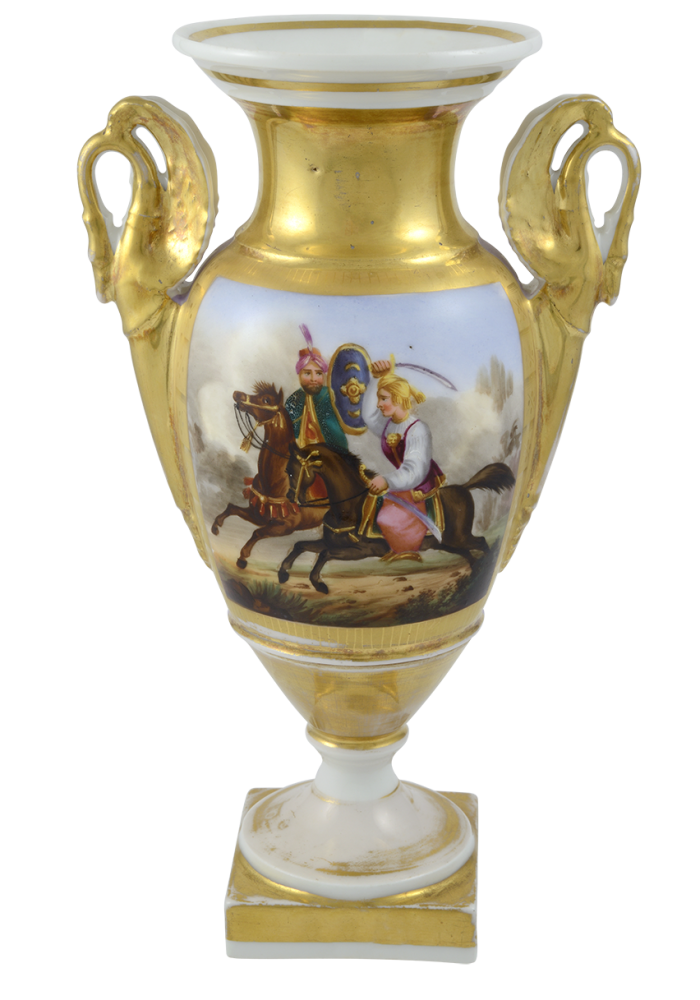 Urn with handles decorated with Swans, 19th c.
Porcelain "Vieux Paris", H. 75 cm
© The Thanassis and Marina Martinos Collection
THEME
A young Greek woman on horseback, fighting the Turkish Pasha.
With her raised right hand, she is holding the sword, while, with her left hand, she is directing her horse in battle.
THE ARTIST
The artist depicts the woman, bravely fighting against a male warrior.
Her skills in battle are apparent. With her stature and her brilliant attire, the woman is the star of the scene.
OBSERVE:
→ What is the Heroine depicted doing simultaneously, in the work of art?
→ What would you like to be able to do simultaneously?
DISCUSS:
→ Why do you think do we not know enough about the women who fought?
WRITE:
Women Heroines that you remember from ancient and modern History.
CONNECTION TO EVERYDAY HEROES
In your daily life, you meet women whose actions are admirable. Think about what makes women in your life so unique:
1) My personal Heroine… is…
2) My personal Heroine… does…
3) My personal Heroine… makes…
4)
5)
You can make this list as long as you wish!