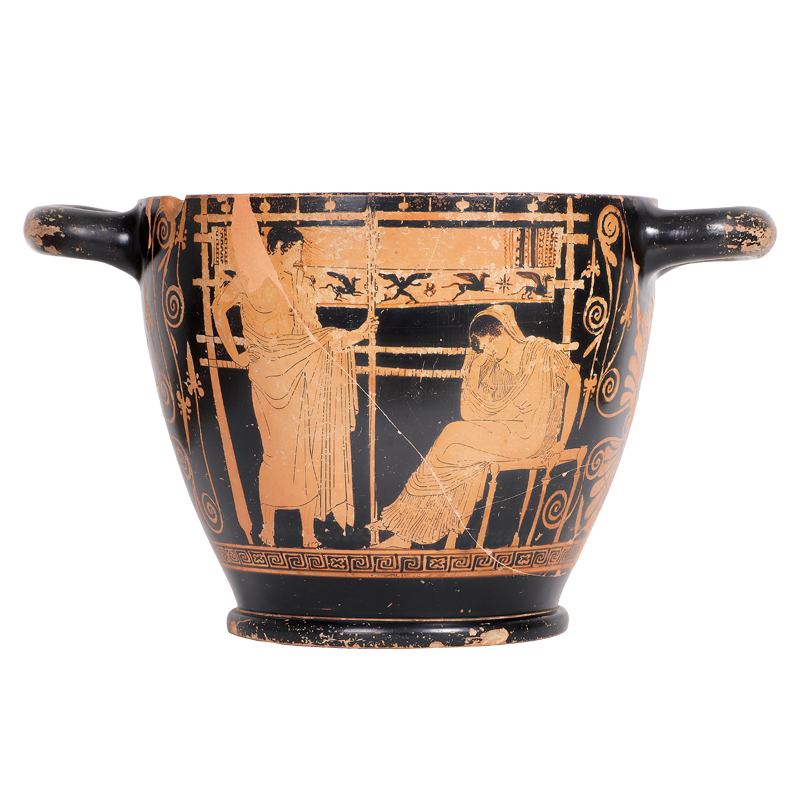 From Chiusi (Siena). Ca 440 BC. Chiusi, National Etruscan Museum 62705.
© Museo Nazionale Etrusco di Chiusi (Direzione regionale musei della Toscana).
Photograph: Adriano Guastaldi.
Clay red-figure skyphos from the Classical Period, with a representation of Penelope sitting in front of her loom.
The painted scene depicts Penelope sitting on a stool next to a vertical loom, where she is weaving her famous burial shroud.
Before her stands her son, Telemachus.
Penelope's posture conveys melancholy and introversion, which, according to one interpretation, have been caused by the news about Odysseus brought to her by Telemachus after his journey in search of his father.
The patience, loyalty, and modesty that her attitude exudes, combined with her intelligence, ingenuity, and craftsmanship, are intended to enhance the gifts given to her by the gods. Penelope's beauty and grace has been worn away by the passage of time (departure, war, and waiting for Odysseus). Thus, Penelope is shown to be superior to all women in appearance, stature, and mind.
SEARCH & LEARN
• Learn about Penelope's virtues: her devotion, patience, and purity, but also her intelligence, resourcefulness, and craftsmanship.
---
• How can we discern some of Penelope's craftsmanship skills from the scene on the vase?
---
• Which of Penelope's tricks demonstrates her intelligence?
DID YOU KNOW THAT
• In the Homeric epics, Odysseus and Penelope were husband and wife, and their common characteristic was intelligence. Penelope was known for her weaving trick, pretending to be weaving a burial shroud to delay marrying her many suitors, while Odysseus invented the Trojan Horse to trick the Achaeans and conquer Troy.
TOPICS FOR DISCUSSION
• What virtues are more important to you in a person?
---
• Penelope stood out for her inner and outer beauty. Discuss what inner and outer beauty (Kallos) can mean.
---
• Penelope and the virtues that characterize her are a model for the women of her time. Discuss whether these standards have changed today. If so, in what ways?