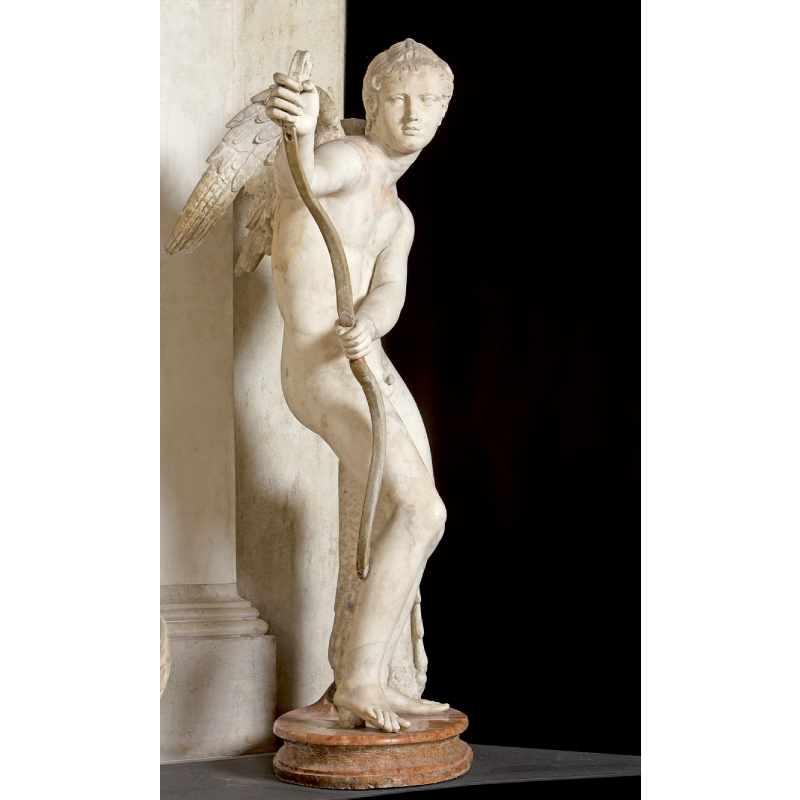 Marble statue of Eros stringing his bow.
It is considered one of the closest copies to the bronze original work created by Lysippos in 335 BC.
Bequest of Cardinal Giovanni Grimani (1587). 1st cent. AD. Venice, National Archaeological Museum 121.
© Museo Archeologico Nazionale di Venezia.
Marble Roman copy from the Classical Period, representing the god Eros stringing his bow.
The winged god is represented as a naked teenager, ready to shoot his arrows.
The immature beauty, the sweetness and grace on the facial expression, and the unstrained, effortless movements of his posture create a serene figure.
Eros (love) is the eternal purpose of gods and humans alike.
SEARCH & LEARN
• What could Eros' very youthful form signify?
---
• What do the wings and the bow symbolize in the god of love?
---
• Search through Art History to find representations of the god of love from different eras.
---
• Why is the god Eros often called invincible, even though he appears very young and powerless, unlike other, more robust gods (i.e. Ares, Zeus, Poseidon, etc.)?
DID YOU KNOW THAT…
• the god Eros has the same effect on both gods and mortals in the mythology of the ancients?f
THINK
• The god's face is depicted serene and his body without tension. For the ancients, Eros (love) did not only involve the physical act, but primarily the coupling of outer beauty with inner virtues.
TOPICS FOR DISCUSSION
• Why do you believe that love has been considered the driving force of the world since ancient times?
---
• Why does the god Eros represent the creative power of nature?