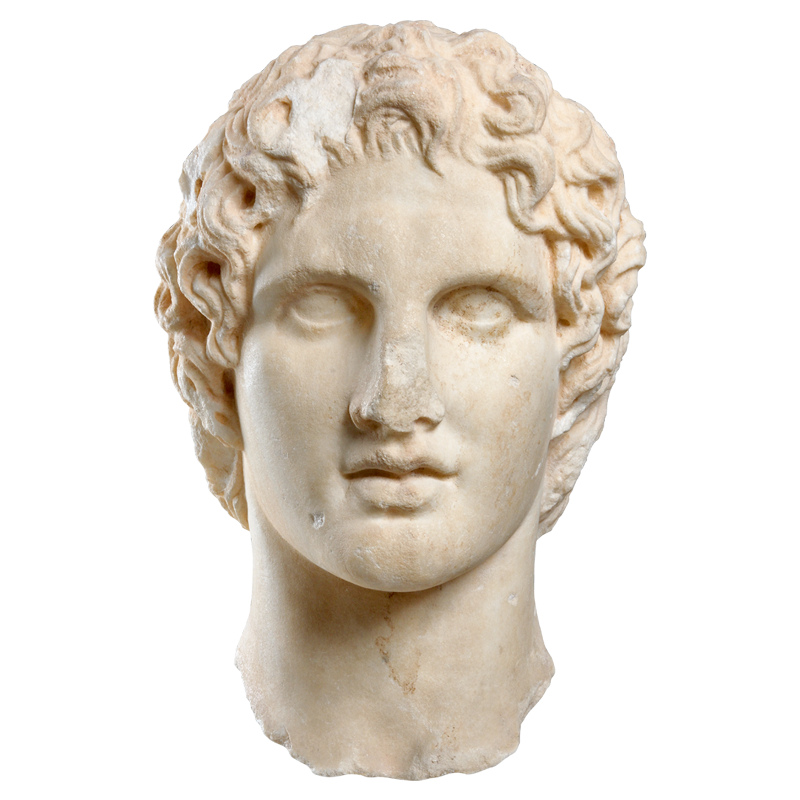 Marble portrait of Alexander, considered an original work by Leochares, dedicated on the Acropolis on occasion of Alexander's visit to Athens in 338 BC, immediately after the battle of Chaeroneia.
From the Acropolis of Athens. Post-388 BC. Athens, Acropolis Museum Ακρ. 1331.
© Hellenic Ministry of Culture and Sports/Acropolis Museum. Photograph: Yannis Koulelis.
Marble head of Alexander the Great from the Hellenistic Period.
Alexander the Great is depicted as young and dynamic, with all of the facial features that made his image emblematic throughout time.
In the figure of the strong man, we can see the rich curly hair that drops to his temples, rich curls standing up over the forehead (a hairstyle known as the anastoli), and the rich fleshy lips and accentuated chin.
His neck is slightly tilted to the left and his gaze is turned toward the sky.
The most radical innovation that Alexander the Great deliberately adopted was the choice to present himself without a beard—like a young god—wanting to promote his vigor and beauty, contrary to the tradition of leaders who, until then, were depicted with beards as a sign of maturity and wisdom.
He imposed his idealized form himself and he was the first leader who systematically shaped his image and deified himself while he was alive.
SEARCH & LEARN
• In what way did Alexander the Great impose his form on his contemporaries?
THINK
• Does the hairstyle of Alexander the Great remind you of a powerful animal in nature?
DID YOU KNOW THAT…
• the image of Alexander the Great influenced the way artists of his time created figures of the gods by giving them the features of Alexander the Great?
---
• Anastoli is the lock of hair that rises over the forehead and drops down, split in two? This is the characteristic hairstyle of Alexander the Great.
---
• since then, many other leaders have copied him, imitating elements of his image because he was so powerful.
---
• Jim Morrison in the album cover of The Doors, copied his image, 2,500 years later?
TOPICS FOR DISCUSSION
• Talk about logos, brands, modern image-making, influencers, and how we encounter examples of this today.
---
• Did you know that there is a specific profession for shaping someone's image so that it achieves greater resonance in one's environment? (See celebrities, show biz, politics, sports, etc.)